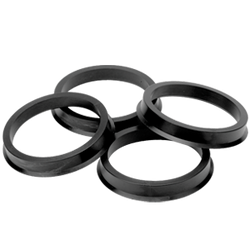 The ESR Wheels hub centric rings are designed to eliminate the gap between the hub of the vehicle and the center bore of the wheel. ESR creates wheels to have a center bore large enough to fit on most vehicles. In order to prevent vibration, these rings fill the gap and ensure the fitment matches that of your vehicle.
These poly carbonate hub rings are designed to fit ESR wheels and most other wheel brands. They are sold in sets of four are not available for individual sales. Please be sure to verify your vehicle's hub size and your wheel center bore size before ordering.
Note: Images used are for reference only and they may be generic. Actual product may vary slightly from those pictured above.